week 53/2009
THIS WEEK´S UPDATE: New pictures in the Gallery >>>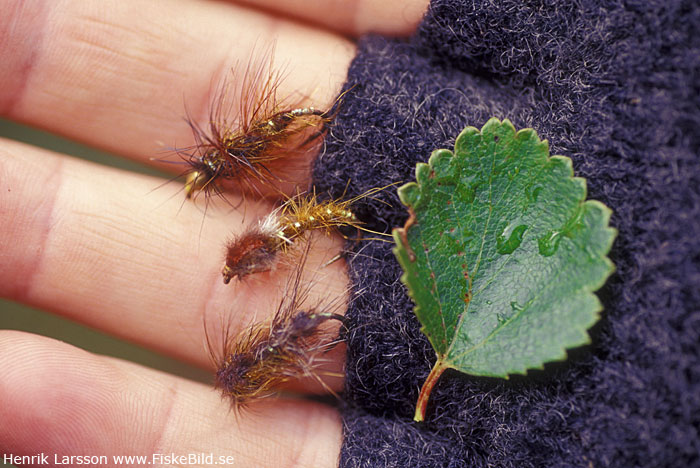 During a flyin into the Lapland wilderness we experienced cold weather, snow and minus degrees in the middle of July. Picture above says it all: heavy nymphs, green leaves and wool mittens!
Nikon F90X, Sigma 28-70/2,8 @ 70 mm, 1/100 sec @ f4, Fuji Provia, handheld.


week 52/2009
THIS WEEK´S UPDATE: New pictures in the Gallery >>>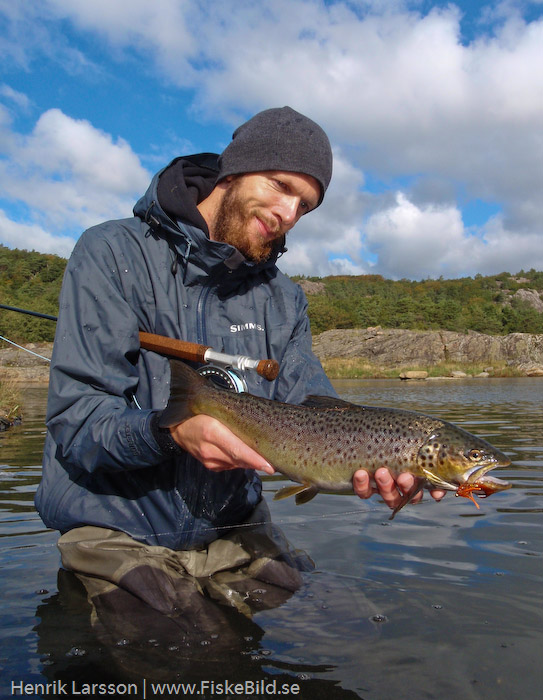 From the test of waterproof digital cameras I have made a separate galleri for each camera. You find that page if you follow this link >>>. And by the way, Merry Christmas & a Happy New Year to you all!!


week 51/2009
THIS WEEK´S UPDATE: New Cover candidate pictures >>>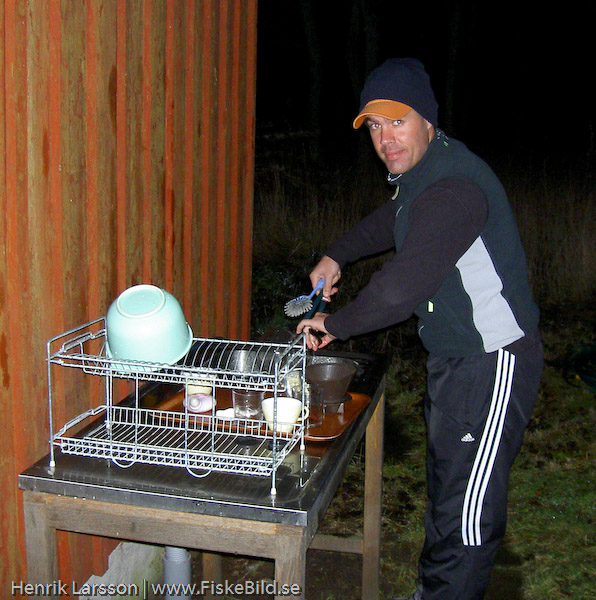 Comfortable accomodation may be a fact on some hotshot faraway tropical destinations, but rarely in our south Sweden pike district. In picture above Alexander is doing the dishes in our, well.... kitchen.
He got the honor because he landed the best pike of the day at 23lbs/43inch.
Canon G11 compact digital camera, all auto mode, flash.


week 50/2009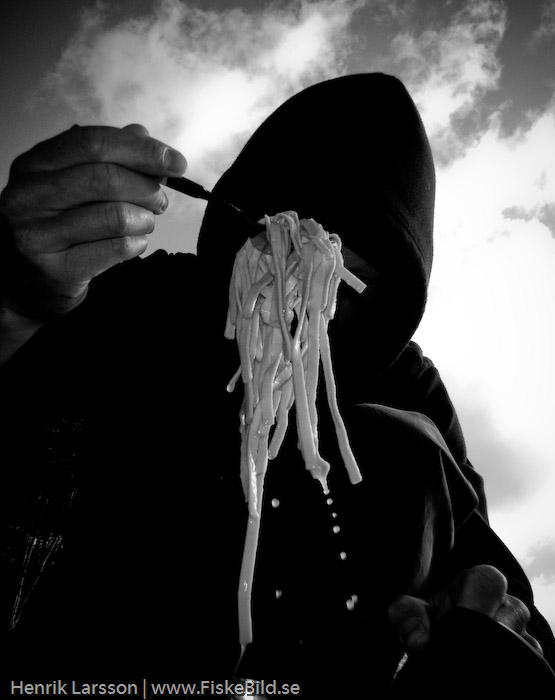 Niclas and I prepared food by the coast and when he lifted the pasta I shot one pic without looking at the screen, and with the camera almost in the boiling water. With some dodging & burning and converted to b&w I think I will
call it ´Dinner with the dark side´.
Fuji Z33 waterproof compact digital camera, all auto mode, fill flash.


week 49/2009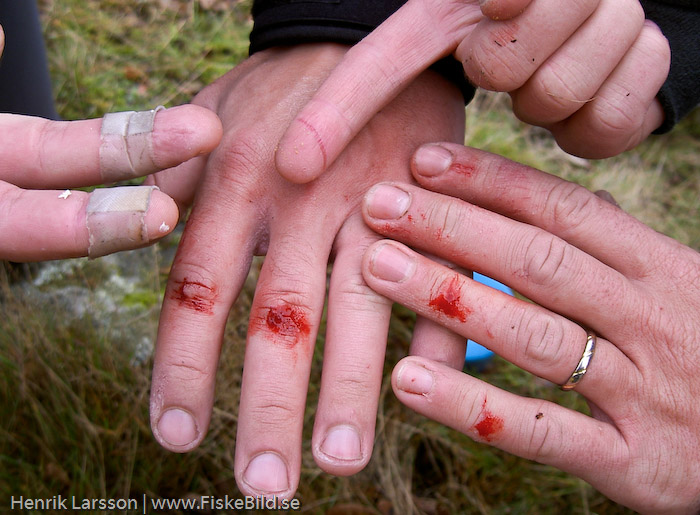 When you return from a fishing trip you have your whole head full of memories. When you return from a pike fishing trip you also have other things to keep those memories alive, like cuts and scars from lines and gills. Above my & Alex hands after returning some 25 pike each.
Minolta G400 compact digital camera, photo by Andreas Persson.


week 48/2009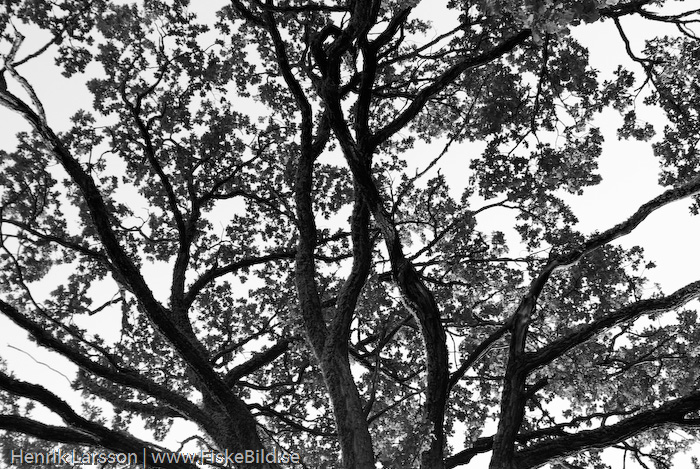 I do not very often try to take B&W pictures as I find it rather difficult to change my mind into bw-mode. Great colours amaze me all the time and I try to capture them as often as possibe. But mabye that is about to change as I have discovered how easy it is to turn colour pics into b&w in LightRoom. Above an oak by lake Mälaren.
Nikon D200, Tokina 12-24/4 @ 24 mm, 1/125 sec @ f11, handheld.


week 47/2009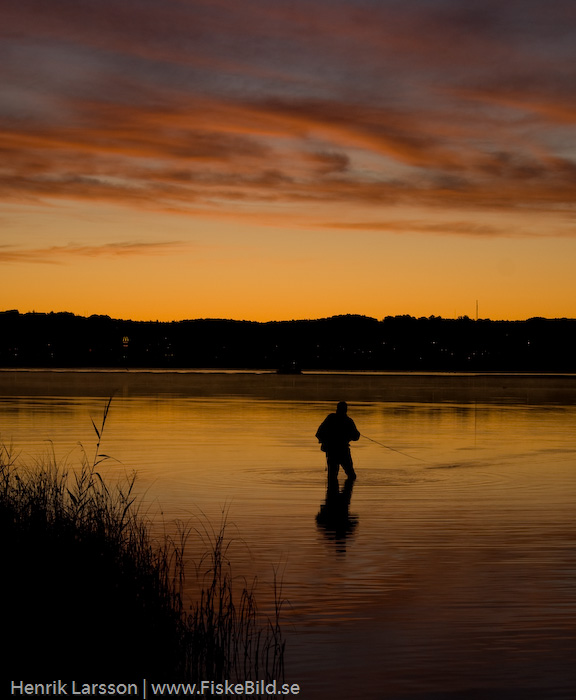 I´m sorry, but I just can´t stop taking pictures of my fishing pals in silouette wading out into the first light. If you look carefully you can see the sign of a quite well known restaurant chain, who opened even earlier,
or mabye did not even close...
Nikon D200, Tamron 28-75/2,8 @ 60 mm, 1/100 sec @ f4, handheld.


week 46/2009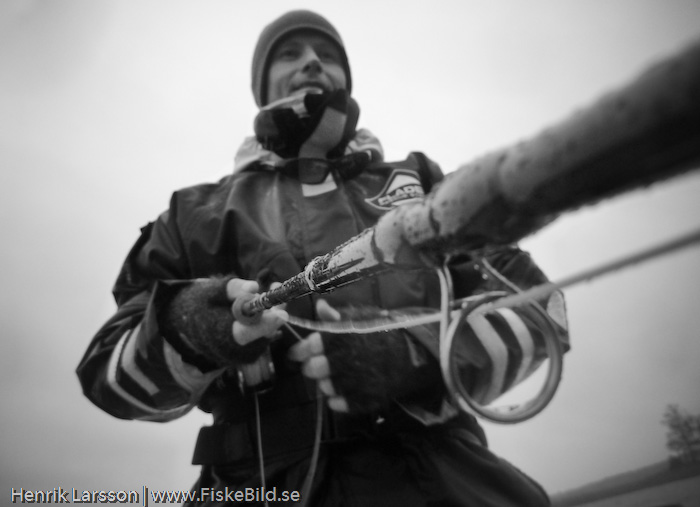 Pictures from really grey and foggy days can often benefit from being turned into b&w. Here a picture where I darkened the corners in the washed out sky to hold the picture together and focus on the fisherman.
Panasonic TS1 WP compact @ 28mm,handheld.


week 45/2009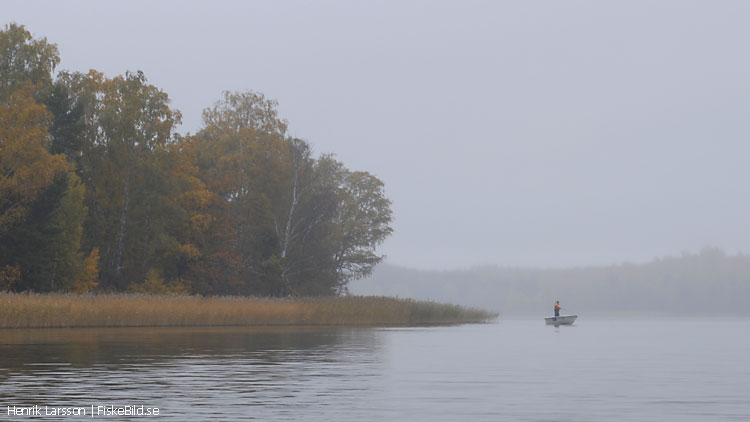 In the muted colours, fog and rain on lake Mälaren I tried to work with leading lines and some point of interest
in the ´sweet spot´ about one third from a corner.
Nikon D200, Tamron 90mm/2,8, 1/160 sec @ f4, handheld.


week 44/2009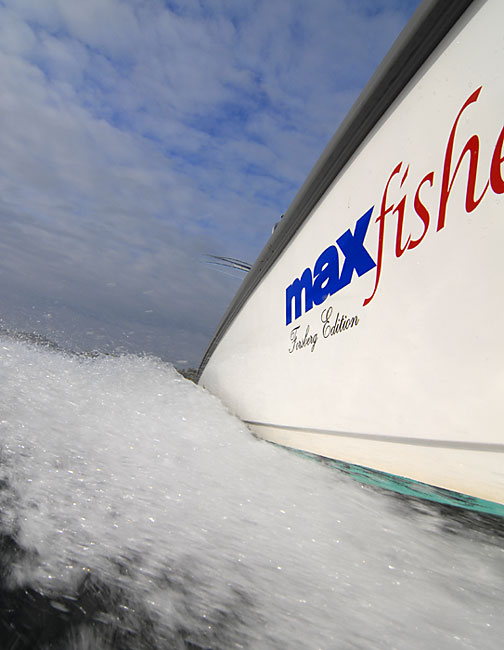 I have been fly fishing from many different boats during the years, but the MaxFisher/Forsberg Edition is the best so far. With a huge platform in the front and both front & rear mounted electrical engines with GPS steering, the ability to manouver with millimeter precision is amazing. And with Anders himself as captain you only need to worry about placing the fly close enough to the vegetation and structures.
Nikon D200, Tokina ATX-Pro 12-24/4 @ 12 mm, 1/60 sec @ f11, handheld.


week 43/2009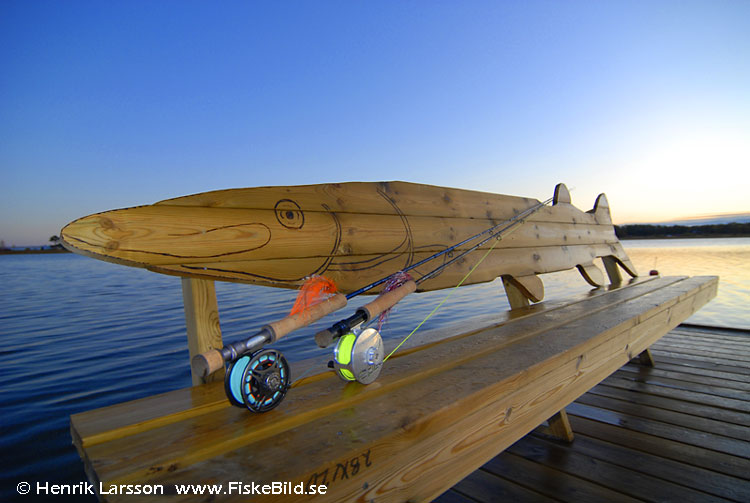 I have seen many places where a good fishing story can be told, but this bench at Svedäng Fishing Camp
by lake Mälaren in Sweden must be among the best.
Nikon D200, Tokina ATX-Pro 12-24/4 @ 14 mm, 1/125 sec @ f5,6, handheld, fill flash.


week 42/2009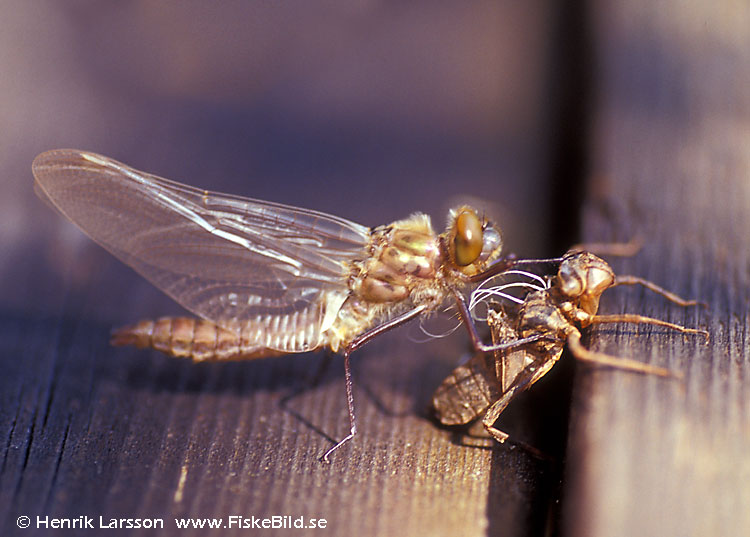 One of Mother Natures small wonders, a dragonfly emerging from it´s nymph skin.
Nikon F90X, Tamron 90mm/2,8 macro, 1/100 sec @ f2,8, Fuji Velvia, handheld.


week 41/2009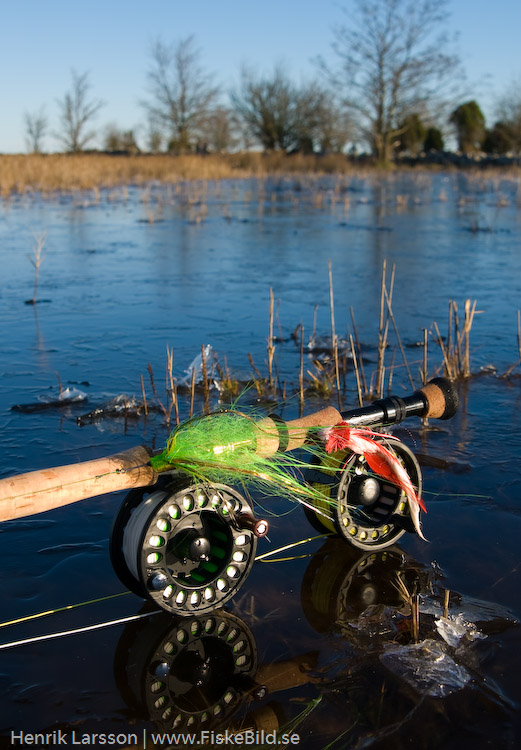 We experienced two days of epic flyfishing for pike in the Baltic sea, but on day 3 the weather turned way to nice with a clear blue sky and frost in the night. The bays were covered with ice, and the pikes just disappeared.
At least I got some nice pictures of test-equipment.
Nikon D200, Tokina ATX-Pro 12-24/4 @ 24 mm, 1/300 sec @ f8, handheld.


week 40/2009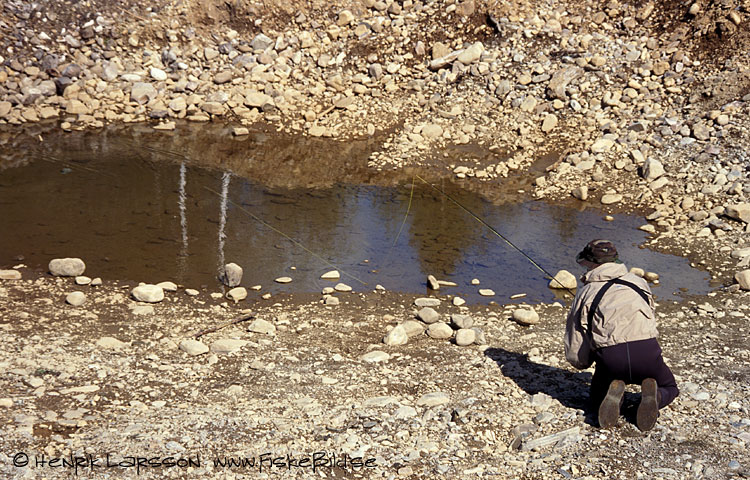 ´Flyfishing 2154 Anno Domini´ when WW4 is over and planet Earth is just one nasty place.
Still, as a flyfisherman hope is the last thing to leave.
Nikon F90X, Sigma 28-70/2,8 @ 50 mm, 1/200 sec @ f8, Fuji Provia, handheld.


week 39/2009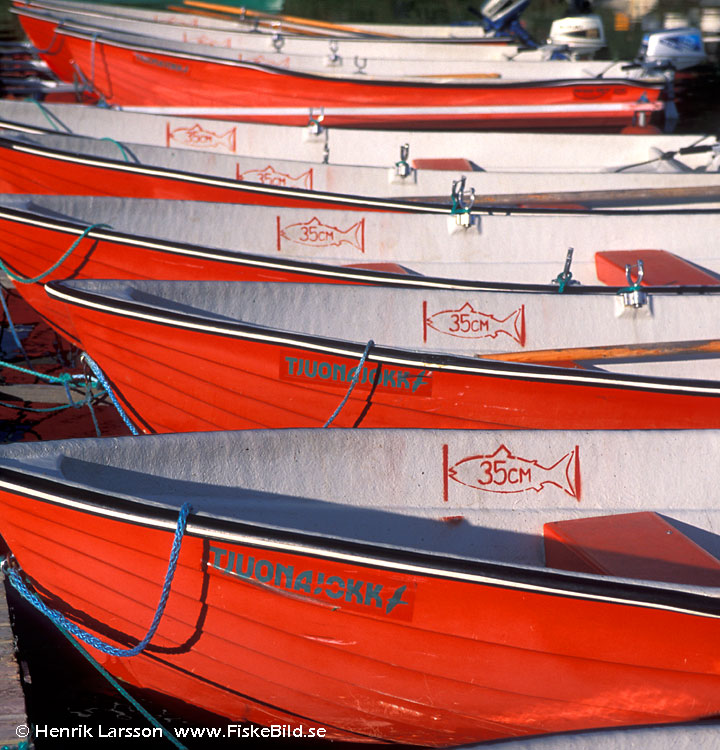 The repetive patterns of the boats and the warm morning sun makes it all almost glow at
camp Tjuonajokk, Swedish Lapland.
Nikon F70, Sigma 28-70/2,8 @ 28 mm, 1/125 sec @ f11, Fuji Velvia, handheld.


week 38/2009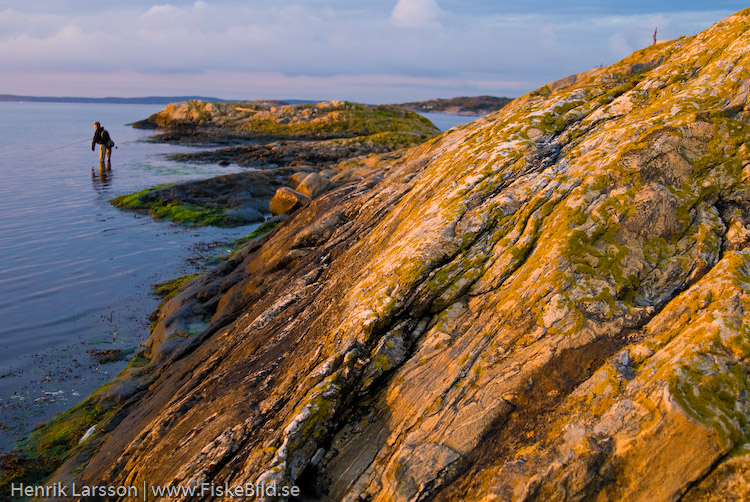 The warm, golden september light makes the cliffs glow on the Swedish west coast now. A great time to be out with good fishing and few boats and people.
Nikon D200, Tokina ATX-Pro 12-24/4 @ 16 mm, 1/200 sec @ f9, handheld.


week 37/2009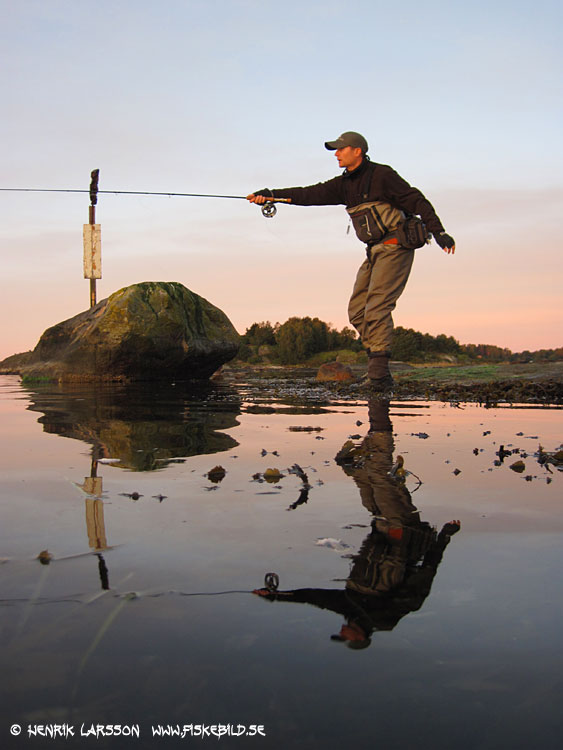 As you never need to worry about water you can shoot from low angles near the surface with the WP compacts. Here Peters silouette reflects in the flat morning water. Canon D10.


week 36/2009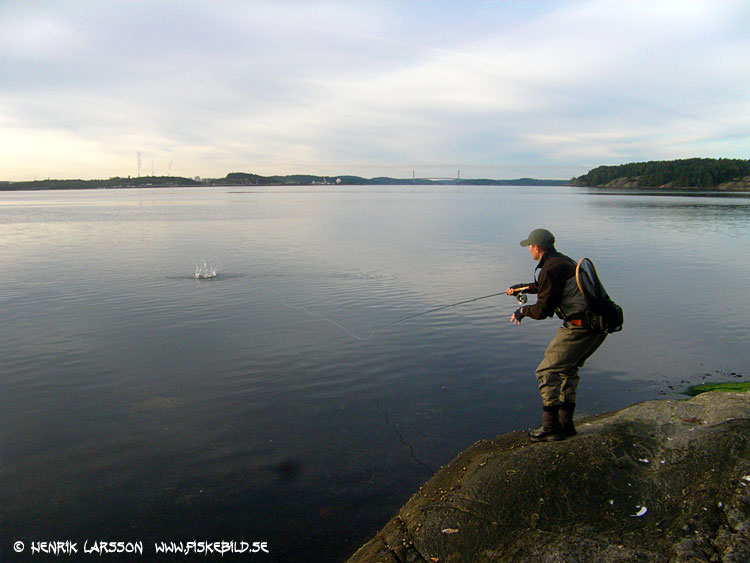 For web and normal size prints those WP digital cameas are good as gold. As with all compacts they get grainy and loose quality at higher ISO:s, and focusing and shutter are a little slower than cheap SLR:s. But if you prefocus you can still capture jumping searun browntrout. Richo G600.


week 35/2009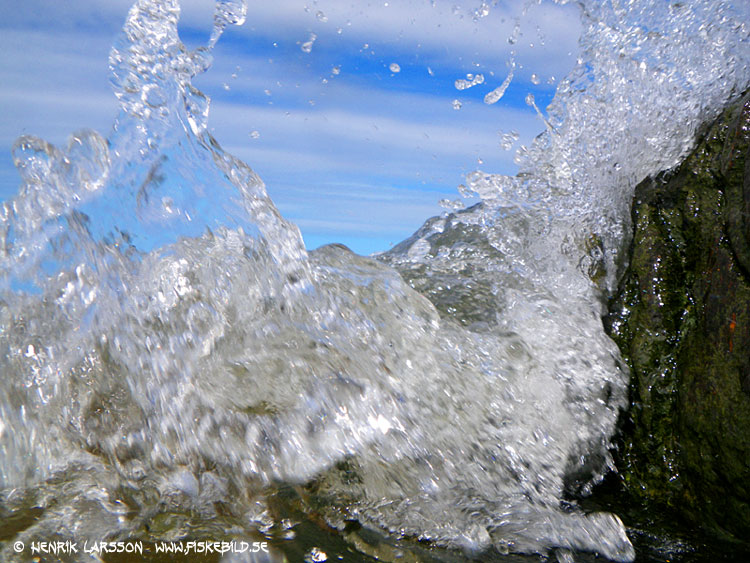 I am performing a test of waterproof digital compact cameras. Even if the picture quality is a little bit limited they are amzingly versiliate as flyfishing cameras. They can capture pictures in any envionment and you can bring them everywhere you go. And I think that´s one of the most important things to get good pics, to be out there in good light and use the camera, no matter weather. Here Pentax Optio W80 just before a wave breakes over.

week 34/2009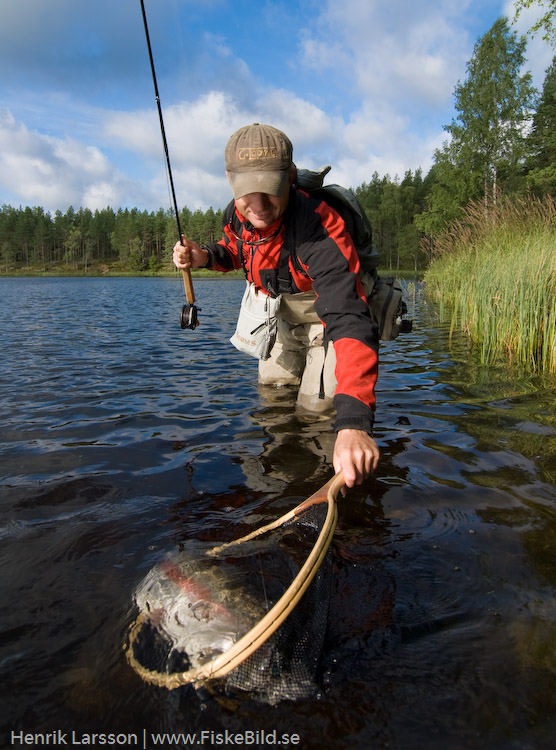 Moment of relief, a big rainbow comes to the net and the beautiful day just got better.
Nikon D200, Tokina ATX-Pro 12-24/4 @ 14 mm, 1/180 sec @ f11, handheld.


week 33/2009


Another NZ shot. We fished a river where you need to gain access from the landowners who are living a very basic life, a group of familys much like the Amish people in the US. Way upstream there are hot springs and the rocks are beautifully coloured in red and dark orange tones.
Nikon F90X, Nikon 80-200/2,8 @ 120 mm, 1/300 sec @ f4, Fuji Provia 100, handheld.


week 32/2009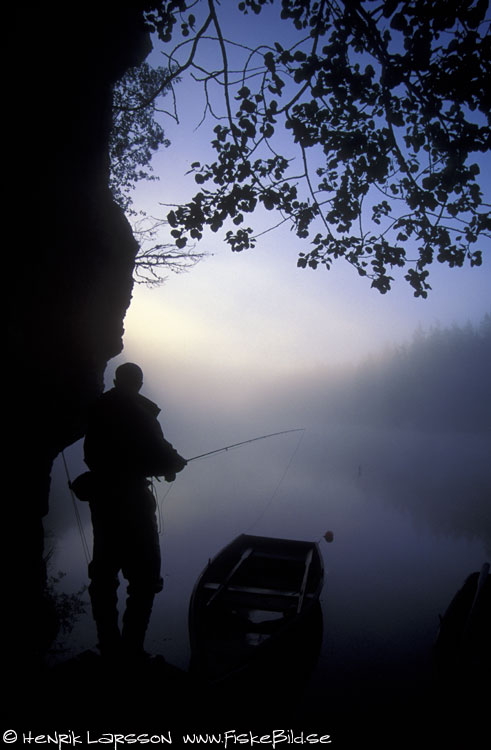 The promise of the morning. One of the best moments in a day of fishing is when you set up your rod by the lake, pick the first fly and the sun starts to shine through and display the surrounding forest.
Nikon F90X, Nikon 24mm, 1/100 sec @ f5,6, Fuji Provia 100, handheld.


week 31/2009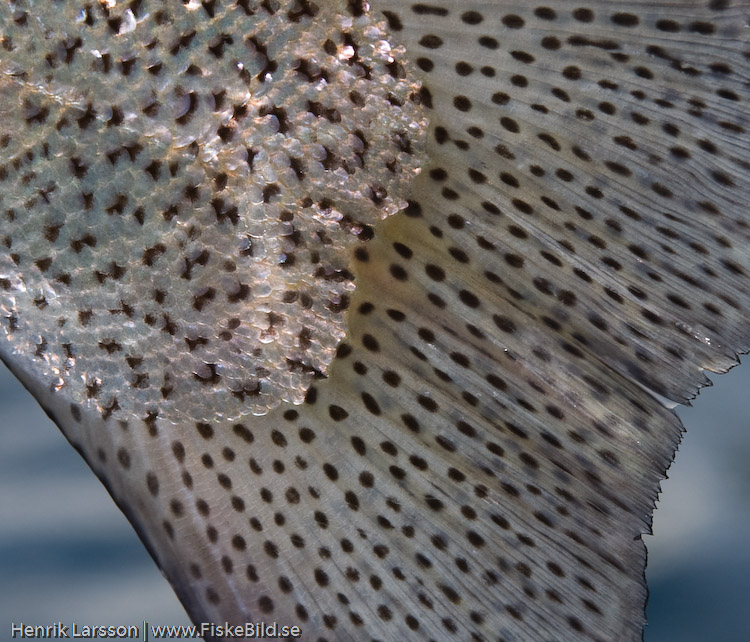 I have earlier shown a fin from a perch, and this time I have found a closeup of a rainbow trout.
The spots and lines are just as great in close focus.
Nikon D200, Tamron 90mm, 1/160 sec @ f8, handheld.



Back to FiskeBild.se Mainpage >>>


© Copyright | Henrik Larsson | FiskeBild.se | FishingImage.com | 2005-2008 | All rights reserved.